This post contains affiliate links. We may earn a commission for purchases made through our links. Learn More
Are you in search for the best high speed blender that can fulfill your blending needs this year?
With so many blenders out there on the market these days, it's very difficult to choose a blender that can meet your blending needs, and that also falls within your budget.
The good news is that the editors of this shopping guide blog have done all the necessary research for you.
We've taken the time to scour the market and uncovered the top best high speed blenders in 2020.
If you're curious (or in a hurry):
Now, introducing our list of the top rated and the best high speed blenders in 2020.
The 10 Best High Speed Blenders in 2020: Reviews
---
If you want to engage in a heavy duty blending but have little fund to purchase a strong blender, the Ninja Professional blender BL660 is the right appliance for you. Apart from being a wonderful blender for smoothies, its elegant look can add the visual appeal to your kitchen.
Power is one of the factors to consider when a buying a blender. This one comes with a 1000 watt of power. It's stronger than any blender that we tested around its present list price.
Another wonderful feature is the lid and pitcher that have to lock in before the blender can work. In other words, the blender won't run until the lid is locked on to the pitcher. This makes the appliance very safe to use.
While blending, the top won't fly over from the vibration of the machine because it fits perfectly well with the clamps of the jar that hold it tight. So you will not have to stand there and hold the blender on top during blending.
The blades that come with this blender are very powerful and sharp. They will crush anything into pieces, including frozen fruits and ice cubes. This makes Ninja Professional Blender BL660 one of the best high speed blenders for crushing ice in 2020.
This blender comes with two pitchers. A single serve pitcher and a large pitcher. The latter is bigger than the first one.
Sometimes blending can seem like a hassle and you may feel reluctant to clean the pitcher, but the single serve option that comes with this machine makes it easy to clean. Also, you can make just the right amount of what you want with it without leftovers.
If you've a family, the large pitcher will be useful. You can do the blending in the large pitcher and put it in the fridge so that your family can drink from it many times per day. The flip top spout for pouring will facilitate sharing the blended smoothies with your family.
These are some the reasons why this appliance made it to the list of the top ten best high speed blenders 2020.
This blender is made by Ninja, a well known brand in the home appliance industry with reputation for innovative products. They're also recognized as the manufacturers of most of the best high speed blenders in the market in 2020. No wonder most of their blenders sell really well
Take a look at the features of the Ninja Professional Blender BL660:
1000 watts pro power performance
2 pro cups
3 speeds
6 stacked blades
Extra large 72 ounce capacity jar for making drinks for the whole family
String blades for crushing frozen fruits for making creamy fruit smoothies
BPA free and dishwasher friendly components
The Biggest Flaw We Discovered about the Ninja Blender
While testing the Ninja Professional blender, we discovered that the blade is a bit higher in the high pitcher – the second pitcher. This leaves some space below the blade and food items tend to sit under there without reaching the top of the blade for blending.
We had to add more food items into the pitcher in order for them to reach the top of the blade for blending. But in the single pitcher, the blade is set traditionally like in most blenders. In other words, the blade lies below the pitcher and no space is left for food items to hide underneath.
Pros
Best blender for smoothies.
Best blender for crushing ice.
The locking mechanism makes it safe for use.
Perfect for puréeing baby food.
Cons
The high pitcher isn't suitable for blending small quantity of food items
A bit noisy just like most blenders.

---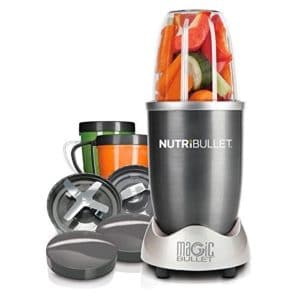 This blender is portable and easy to use. It pulverizes fruits and vegetables into appetizing and smooth textures. Nutri-Bullet 12-High-Speed blender comes with a 600 watt motor with strong blades designed to run in a cyclonic action for an effective blending process.
One of the best features of this blender is the strong extractor technology that utilizes a 600 watt motor with a cyclonic action and the original extractor blade. This feature helps break down and crushes seeds, skins, and the stems of some food items where most of the vital nutrients reside.
The blender comes with 3 different cups. The cups have handles and can be used to drink your finished product right after blending without pouring into a different cup. The cups also come with leads that you can use to cover your blends for late consumption or take it with you. The drinking rings that come with the blender allow you to drink right from the cup.
This blender is so easy to use and clean. You can get into your kitchen, make some smoothies, clean up the blender and be out within five minutes.
Following are some of the features of this appliance:
600 watt motor with high-torque power base
Strong blade with a cyclonic design
3 cups
BPA free and plastic materials
Dishwasher safe parts
Pulverizes vegetables, fruits, and protein shakes
One Flaw that Might Deter You from Buying This Device
A major flaw we discovered in this blender during testing was that, it's so strong that while blending one has to hold the top of the machine otherwise it will move about on the counter top. You can't simply operate it without holding it.
Pros
Very portable and occupies little space on the counter.
Best portable blender for traveling.
Easy to clean.
Very powerful and good for crushing ice, frozen fruits and hard food items.
Cons
Securing the container to the blade can be a headache when using it for the first time.
The powerful blade makes this blender noisy.

---
This is another wonderful high speed blender with unbelievable functions for crushing hard food items, including frozen fruits, ice cubes, and the hard parts of vegetables such as seed stems.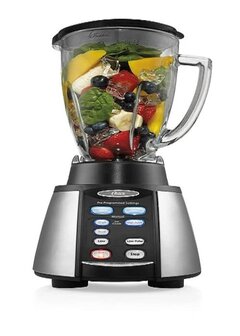 This device comes with a 600-watt powerful and reversing motor that spins the blade forward and backward grabbing food down for perfectly smooth blending. One great advantage of this feature is that you no longer require a spatula to scrape food from the blender during blending.
An extremely sharp 6-point star blade is integrated in this beast blender. It chops food and blends hard food items within seconds. A 2-ounce measuring cup with clear lids that allows you to see the inside of the container is included in the package.
Other great features of this device are the blade and the drive that are made of metals. This makes the blender one of the strongest and durable blenders in the market today.
The settings options are simply amazing. The options consist of seven speeds with high and low alternatives. This gives you an absolute control over your blending task at the press of a button. Another benefit of the speed options feature is that you can choose the degree of your involvement during blending by choosing a speed option for the right ingredients.
For example, if you want to blend frozen fruits to make smoothies, a special button is dedicated to this function. Once you've filled the container with your desired frozen fruits ingredients, simply press the "frozen fruit" button and see the blender perform its magic with the combined power of the reversing blade.
In this option, the blade starts in one direction for a few seconds at the beginning, and then reverses to rotate in the other direction. This way, any food that falls beneath the blades will be brought back to the surface for proper blending. Isn't this a magnificent feature?
Check out some of the features of this high speed blender:
1000 power watts
Pre-programmed setting with amazing blending options
Dual direction blade technology for thorough blending
6-point blade that reverses to avoid jam-ups
7 different types of speeds – from Low to High pulses
2-ounce filler cap with built-in markings for measurement
6 cup glass jar
The Ugly Side of Oster Reverse Crush Blender
While testing this blender, we discovered that the "food chop" setting option is not that useful. The shape of the container does not allow sufficient movement for this option to function properly. So if food chopping is a big part of your blending task, opting for a food processor will help you do a better food chopping. However, if all that you desire is a simple but powerful high speed blender, this is the ideal appliance for you.
Pros
Perfect for blending frozen fruits.
Crushes hard ingredients easily.
Strong and powerful.
Very easy to clean.
Reverse blade design for effective blending.
Cons
Produces lots of foam on blended foods due to the strength of the motor
Noisy just like other blenders on the market.

---
If your intention is to buy a strong blender that's capable of withstanding all the blending stresses that you plan to throw at it, this is a perfect appliance. This machine blends at a high speed and turns whatever you put in it into a perfectly smooth liquid without chunks or pulp. You can also use it to heat your soup.
There is a significant difference in a smoothie that's made with this Vitamix 5200 blender and one that's made with another high speed blender at the same price. This blender is much faster as compared to other high speed blenders of the same price value. But if you're the type that makes smoothies only once in a while, maybe a cheaper blender will be a perfect deal for you.
A recipe book is included in the package of this blender. The book is composed of the owner's manual, and various recipes for making dressings, marinades, deserts, breads, beverages, soups, spreads and dips.
Vitamix 5200 is very easy to use and clean. To clean it after use, simply add a few drops of dish soap and water in the mixer. Run the appliance for a few seconds and rinse after that. Later, clean it with a clean and dry rug to get rid of the drops of water on the body of the machine.
At the present selling price, this blender is the best value for a strong and high speed blender for smoothies.
Check out the Amazing Features of the Vitamix 5200 Blender Below:
Perfect container size for blending medium to large batches of food items.
The dial options give you total control over your blending tasks.
Adjustable speed to achieve a variety of textures.
A powerful design for pulverizing every types of recipe ingredients, including the smallest seed.
The speed of the blades create friction heat that's capable of turning cold ingredients into steaming hot in just a few minutes.
This blender is composed of BPA-free materials.
It's made in the United States.
The Painful Truth about This Blender
One ugly issue we discovered while testing Vitamix 5200 series is the noise. This appliance is so noisy that you can't hear someone talking to you when it's running. Upon further investigation about the cause of the loud noise, we noticed few things: 1) the noise is due to the strength and power of the motor. 2) it's less noisy when it's running at the lowest speed option, and louder at the highest speed option.
Overall, we're yet to see a high speed blender that's not noisy. So the noise should not be a factor to consider before buying a strong and high speed blender.
Pros
Extremely strong and powerful.
Can handle heavy duty blending.
Blends food smoothly living no chunks behind.
Crushes hard ingredients and frozen fruits easily.
Cons
Noisy at high speed.
Very expensive.

---
Cleanblend has come out with the perfect blender that can help facilitate your quest for a better and healthy living.
The Cleanblend 3HP 1800 Watt Commercial blender has a 3 horse power with the aptitude to turn vegetables and fruits into liquid, and all other nutrients into a mouth-watering drink.
This machine is less expensive than its counter parts with the same features and functions. It will blend any ingredient into smooth consistency to allow even a defective digestive system absorb the liquid nutrients in a natural and slow process.
This blender is capable of blending most hard fruits – carrot, ginger, beets, lemons, etc — into smooth drinks. But to achieve this, you'll have to cut them into reasonable sizes first before throwing them into the blender's jar.
While testing this beast, we noticed that the variable power has a lag. But that wasn't really an issue because the tamper wand helps you to mix your smoothies so that the blender can process it effectively.
What we've also learned is to first pulse the mixture, especially if you have a lot of chunks from ice, fruits, or vegetables. Blending as you go is another option. Most users do that.
This blending appliance is so strong that it will turn any object you throw at it into snow. It will crush frozen fruits and ice cubes into snow. Like Vitamix, it can make hot soups at high speed.
The jug that comes with this high speed blender is very easy to clean. Simply pour some water into the jug and add a few drops of dish soap. Run the appliance for a couple of seconds, stop the machine and rinse it out. Alternatively, you may wash it by hand if you can but it's not easy to disassemble and reassemble. Besides the above cleaning methods, you can also follow the instruction on cleaning on the user's manual that's included in the package.
Some useful features of the Cleanblend Blender:
Oversized and strong container
Stainless steel blades with sealed ball bearing
A tamper wand for a great processing power
Can effortlessly handle large quantity of food items at a time
One Issue that Might Make You Dislike this Machine
An annoying issue we encountered while testing this high speed blender was the ill-fitted lid. The lid doesn't anchor well to the jar, as a result, it causes spillage of the blended food when pouring. It's safe to say that this is a minor issue that should not deter you from buying this strong and powerful blender. Especially if you're going to be doing lots of heavy duty blending on a regular basis.
Pros
Very strong and powerful motor.
Can handle heavy blending tasks.
Makes excellent and smooth smoothies.
Large capacity container.
Easy to use and clean.
Cons
Ill-fitting lid causes spillage when pouring.
Noisy, particularly at high speed.

---
This blender is a jack of all trades. It can be used to make ice cream, milk shakes, smoothies, dressings, bread dough, cappuccinos, fresh juices, sauces, soups, and a whole lot more.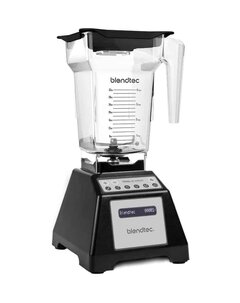 Blendtec Total Blender is one of the strong and high speed blenders on the market today. The large blade that comes with this machine is powerful and can penetrate through tougher food items with hard parts, including frozen fruits. Additionally, it can handle larger recipes within a short period of time with a perfect output.
Did you know that motors that come with blenders have brushes?
I guess you've never thought of that before, right?
Yes, motors do have brushes and can ware out really fast. Except if they're made with electrographitic carbon just like in this Blendtec Total Blender. If they're made of the material mentioned above, they tend to be durable.
The blade in this appliance is made of ultra-hard stainless steel blades that are cold-forged and fine tuned for handling heavy blending tasks. This design makes Blentec Total Blender stronger and resistant to corrosion a lot better than other blades in other high speed blenders.
The design of the blade and its placement in the machine allow ingredients to fall easily in front of the blade where they can blend successfully well and turn into your desired output.
Friction is a common issue in all high-powered equipment, including high speed blenders. In the motor system of this blender, ball bearings are integrated to help the device blend faster and a lot quieter. It's also surrounded with a rubber mount in order to absorb the shock emitted from blending frozen fruits and ice. All this complexity translates to an easier blending of the most stubborn and hard ingredients.
The pre-programmed blend cycles feature allows you to set the appliance according to your blending task, and leave the machine to do its job without much intervention from you. And the size of the blender after assembling makes it fit perfectly on your counter top. This will help reduce carrying it from its stored place to where it's mostly used for blending. That's why we named it the best counter top high speed blender in 2020.
It looks so cute on the counter top!
Features of Blendtec Total Blender
The commercial quality makes this unit a strong and powerful blender
1560-watt motor power performance
Best countertop blender with 3 HP (Horse Power) direct drive motor
2 powerful stainless-steel blades that spins at 29 0000 rpm – rounds per minute
Crushes ice and frozen fruits into snow
2 quarter square blending jars with well fitting lid
Pros
The size – 15 inches – makes it a perfect blender for the counter top.
Incredibly strong and powerful motor.
Requires no babysitting (involvement) while blending.
Cons
Not dishwasher friendly.
Very noisy due to powerful motor.

---
Nutri Ninja Auot-IQ is another excellent high speed blender with a perfect size that makes it fit perfectly well on the counter top.
The Auto-IQ is the most innovative feature in this blender. This helps the appliance blend for a preset time, and pause for a moment to allow the unblended food items fall down to the bottom where the blade can reach them, and then begin blending again automatically. This means that you can simply set up this blender after filling it with your ingredients, and leave it to do what it does best while you concentrate on something else.
The output of the blended food is as consistent as compared to what you would normally get from smoothie bars. In other words, it can do most of the jobs that the more expensive blenders will do.
In the package of this machine, you'll get three cups of diverse sizes – the main unit, the blade, and three travel-cups. The main unit is well designed and heavy. There are firm rubber grips on the bottom, and a pair of suction cups.
Their main function is to help anchor the blender on the counter and prevent it from moving about during blending.
At the base, there's a pretty cord-managing area beneath where you can wrap the wire cord when the appliance is not in use. It's not something whimsical but it saves the power cord from spreading over the counter when the appliance is not under utilization.
There are four buttons on the base. Two of these buttons are for normal functions – On & Off and Pulse – just like in most blenders on the market.
The On & Off trigger full power blending, the Pulse makes the blade spin when you touch the bottom. However, the other two buttons are the exceptional features.
The two Auto iQ are a kind of "set and forget" solution to utilizing this beast blender. They're marked as "Blend" and "Ultra Blend". Their function is simply amazing. The "Blend" button is used for blending softer ingredients, and the "Ultra Blend" button is used for harder and stubborn ingredients.
When you press either of the Auote iQ buttons for the right ingredient type, the blender goes into an absolute auto-pilot blending cycle – blending, pulsing, and pausing. While in this mode, a timer shows up on the small screen counting down the operation. In the process, the appliance will do a perfect blending function and mix your ingredients into your desired result.
Some of the Features of the Nutri Ninja Auto iQ Blender
Amazing Auto iQ Technology for powering the blender to run on auto-pilot. In other words, hands-free.
1000 Watt power performance motor that can penetrate through vegetables, frozen fruits, and ice within seconds.
Powerful blades that spin at extremely speed to turn ingredients into mouth watering juices and purees.
The Ugliest Side of this Blender
Despite the amazing functions and features of this Ninja Auto iQ BL482 blender, the most annoying thing about this device is the noise level. When running it, it sounds so loud that your dog or cat will go running for cover and may not come out for the rest of the day or night. But this shouldn't be a determining factor to consider for buying this unit. Strong and powerful blenders are loud as result of the power of their motors.
Pros
Powerful and strong.
Good for pureeing pet food.
Fits perfectly well on the counter.
Very easy to clean.
BPA free containers with lids.
Cons 
It's so loud.
It can't handle some seed ingredients.

---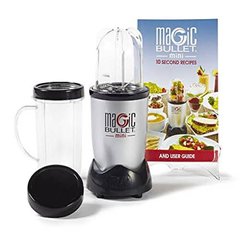 If you're looking for an easy and a convenient way to spark your day with some nutrients, the Magic Bullet Mini high speed blender and mixer is the best device for achieving that.
It's an amazing appliance that does what it's designed for. It blends ingredients smoothly and quickly with no chunks left behind.
Besides using this unit for your smoothies, it can also be used for making baby food. It turns all vegetables into consistent liquid without much fuss. This depends on the amount of time you allow it to process the ingredients.
Another thing that we find amazing about this blender is the size. It's one of the best portable blenders for smoothies in the market in 2020. Whether you're traveling out of town or just going to the office, you can carry this device along with you. Its light weight makes it fit perfectly well in a backpack or office bag. So you can make smoothies while on the go.
The package comes with a high torque power base, a mug with a comfortable lip ring, a cup used for mixing, cooking, and storing drinks, re-sealable lid, and a stainless steel cross blade. A cookbook with various types of recipes is included in the package to help you kick start your healthy eating ambition.
Don't buy this unit if you have a different plan
Unfortunately, this blender can't be used for heavy duty blending. While testing this device, we loaded the container with some hard ingredients such as frozen fruits and ice cubes. When we turned it on, it struggled to blend the ingredients. We had to turn it off real quick.
The solution: we used crushed ice and added little water into the container to help facilitate the blending. The result was amazing.
Pros
Easy to use and clean.
Very portable and easy to carry around.
Makes less noise.
The containers can be used as cup for drinking smoothies.
Perfect for making baby foods.
Cons
Cannot handle heavy blending task.
Struggles to blend ice.
You have to crush ice first.

---
Bella Rocket blender is a powerful device that can destroy anything that's put in it within seconds. It comes with two different types of blades, and three blending containers that you can use per your requirement. Additionally, included in the package are a motor base, two comfort lip rings, an instruction book, two reusable lids, and two shaker lids.
One of the blades is used for blending. You can use it for all your blending needs, including spicy salsa, appetizing smoothies, and delicious sauces. The second blade is designed for grinding and can also be used as a food processor.
With two giant cups of 21.6 ounces, and a small grinding cup of 13.3 ounces, you can make various quantities of food to consume right away or store in a refrigerator without the need to pour the finish product into a different cup. And when you're ready to enjoy your smoothies after blending, simply insert one of the lip rings into the blending cup and enjoy your smoothies.
This blender blends frozen fruits and ice into smooth consistency. If you do a lot of coffee grinding, this piece can help you grind coffee faster and smoother more than some coffee grinders in the market. It also grinds oatmeal and rice into flour without any difficulty.
It's very easy to use this blender, even if you've never worked with one before. To operate it, simply attach the right blade to one of the three cups that come with the package. Turn the blade around to lock it to the powerful base, and push it down to blend. That's it. Simple and easy!
Following are some the features of this appliance:
All accessories in the package are dishwasher safe and BPA-free.
240 watt power performance motor.
Two different stainless steel blades – one for blending, the other for grinding and pulverizing.
An equipped base with rubber feet for better grip and performance.
It comes with lids for on-the-go smoothies, and shaker lids for adding ingredients during blending.
The Only Pet Peeve You Should Know about This Device
The main problem we found with Bella Personal Size Rocket blender is that the design of the cups makes them difficult to wash. Especially the bottom parts of the cups. They are so small that reaching there with a cloth or sponge to wash can hurt your hands. But this does not change the fact that this appliance is one of the best high blenders under $30 in 2020.
Pros
Very portable and occupies little space.
Easy to use and clean.
BPA-free and dishwasher friendly.
Comes with useful and amazing accessories.
Cons
Can't handle heavy duty blending.
Difficult to find replacement parts.

---
The Ninja Kitchen System Pulse blender offers you the power and ease to live a healthy lifestyle. It brings together a high speed blender blade technology mechanism with single-serve blending containers, including a bowl for processing ingredients, and easy-to-use attachments for all your kitchen requirements.
This high speed blender comes with a 550 watt power, and a Pulse technology that gives consistent, finely processed, and smoothly blended ingredients all the time. This appliance crushes ice into snow, blends various types of ingredients and vegetables into fresh and mouth watering smoothies.
The crushing technology system integrated in the Ninja Kitchen System Pulse BL201 blender is an exceptional feature that cannot be found in other high speed blenders with the same price tag. The crushing features are simply powerful blades that pulverize and crush through frozen fruits, vegetables, and ice within seconds. It does this by blasting ice into snow, and blending your ingredients into appetizing smoothies and dips, and tasty sauces.
The unit comes with two professional containers for personal serving, and the 40 oz. processing bowl for making more than one serving, including making pizza dough and cookies. You can drink from the cups immediately after blending without the need to pour your drink into a new cup.
This blending machine is so easy to use and clean. You can disassemble it easily for cleaning, and re-assemble after cleaning without any problem.
Some of the Features of Ninja Kitchen System Pulse Blender:
550 Watts professional power performance
Single serve blending cup for drinking on the go
Total crushing technology for blasting vegetables, frozen fruits, and ice within seconds
Speed pulse technology
Dishwasher safe
BPA-free
The Most Annoying Thing about This Blender
The biggest flaw in the design of the Ninja Kitchen System Pulse blender is that it has no button for turning it "On and Off". In other words, there is no switch in this unit. To operate it, you simply lock the cup with the base and press it down. Once pressed down, it starts running – blending. This also means you'll have to stand there and press the machine down until the blending is over. You can't use it hands-free. But it gets the job done perfectly. Among all high speed blenders under $100, this is one of the strongest.
Pros
Powerful and strong.
Good for personal serving.
Sharp blades for crushing whole fruits, vegetables and ice within seconds.
Good for making smoothies.
Cons
Noisy when running.
Can't be used hands-free.

There you have it. Our list of the top best 10 high speed blenders in the market in 2020. Hopefully, you've found one that meets your blending needs.
---
Everything You Need to Know about How Blenders Work
A blender is made up of a housing, food container, blades, and a motor. A fan-cooled electronic motor is connected into the housing with vibration dampers, and a little output shaft pierces through the top housing, and fits together with the blade assembly. To prevent liquid from penetrating into the motor, a small rubber washer is used to seal around the output shaft.
These days, there are lots of blenders with many speeds. Because a typical blender is designed with no gearbox, the multiple speeds are frequently employed using a common motor with several stator windings and multitpapped stator windings.
A blender built with electromechanical controls, the button as well as other electrical switching tool or location for every different speed connects to various stator winding or tap or a combination of those. Every different combination of electrified windings creates a different torque from the motor. This gives out a different equilibrium speed in balance against the haul of the blade mechanism in touch with the substance inside the food container.
In the middle of the 1960s, Oster came out with an exceptional blender with a single knob. The model was called Oster Model412 Classic VIII. This model provided the lowest speed using the mentioned tap method above but furnishing higher speed with an automatic speed administrator that regulates the force that is produced by flyweights against a spring force varied by the control knob when switched to the higher speed range.
With this structure, when not put into the Stir speed mode, the speed of the motor is steady even with different load to the point where power required by the load is equal to the power of the motor's capability at a certain speed. Electronic speed controls found on modern blenders contain the latest version of this speed construction.
For more on how blenders work, check out the short video below. You'd love it.
---
7 Crucial Factors to Consider Before Choosing the Best High Speed Blender for Your Smoothie
There are some essential factors to consider before buying the best high speed blender in 2020. Most of these factors may not come into mind first but knowing them in advance will help you make the wisest purchase decision, and help you buy a perfect blender for your smoothies and other blending needs.
Following are some crucial factors to consider before buying a blender.
(1) Gain some basic knowledge about blenders
There are various types of blenders designed for specific use. The two most common ones are the counter top blenders and immersion blenders.
Countertop blenders are designed for the countertop. Most of them are made of a large container attached to a base that holds the control buttons. Countertop blenders are best for making smoothies, crushing ice and frozen fruits. Before buying a countertop blender, ensure that there's enough space on your counter for housing this unit.
Immersion blenders, also known as stick blenders, are simply small handheld blenders with a spinning blade at the bottom of a long stick. These types of blenders are designed to blend ingredients in bowls or glasses. They work perfectly well for making sauces, frothing up milk shake, or pureeing food.
Counter top and immersion blenders have common characteristics in terms of their functions. But they're different in sizes and appearances.
(2) Take note of the operation options of a blender
Blending machines come in various types, including the number of options for controlling blending operations. Some blending appliances come with several speed options, while others come with options for the type of food you want to blend such as smoothies, fruit juices, puree, yoghurt, etc.
Additionally, some blenders have manual controls where you simply press or hold down the machine before it can work. This types of blenders usually don't have speed options, and are mostly designed for making specific types of foods.
Blenders that come with several operation options can mostly be used hands-free. In other words, you can use these types of blenders with little to no intervention from you. You simply set the machine to your liking before blending and leave it to do what it does best while you concentrate on something else.
Taking the operation options that come with each blender into consideration will help you choose the perfect and best high speed blender appliance that meets your needs and facilitate your blending tasks.
(3) Know the power performance of a blender
Blenders come in different shaped and sized, including power performance. A watt is an electric measurement used to determine the power or strength of an electrical appliance, including blenders. One electric horsepower is equal to 746 watts. This means that the more watts a blender has, the more powerful it is, and the more blending tasks it can withstand. Most of the best high speed blenders reviewed in this article have this particular feature.
Having determined how regular you intend to use your blender, know the power performance of the blending machine you're considering will help you choose the best high speed blender for your needs. So before you buy a blender, don't let the design or shape of a device be the determining factor for your purchase, check the wattage – power — of the machine as well.
(4) How frequent do you intend to blend?
The number of times you intend to use a blender will have an impact on its durability. Not all blenders can endure constant use, including some of the best high speed blenders in 2020.
Do you intend to use your blender: for daily smoothies? Once or a few times per year? Or occasionally when friends or loved ones come to visit you?
Some blenders may be able to handle heavy duty blending but tend to flounder when used frequently. On the other hand, there are blenders that can survive regular blending tasks but fail to perform effectively when it comes to heavy duty blending. Sadly, it's hard to find a single blending machine that has both qualities. But a few of the best high speed blenders do.
(5) How many people do you plan to serve?
The containers or jars of blenders come in different sizes and shapes. Keeping the number of people you intend to serve with a blender in mind will help you opt for one with a perfect container size. But if you plan to make smoothies for your personal needs, this should not be a concern. In case your spouse will be a part of the blending initiative, make sure you choose a blender with a big container that can hold enough ingredients at once. So that you won't have to make the same food multiple times in order to obtain the right quantity for the number of individuals in the plan.
The good news is that some blenders come with multiple jars with different sizes, including most of the best high speed blenders reviewed for 2020.
(6) Know the materials that are used to manufacture the parts of a blender
The materials used to manufacture the parts of a blender have enormous impact on the usage, durability, and ease of use of the machine. Particularly the container of a blender, also known as the jar. Most people tend to overlook this factor when considering the best high speed blender for their needs.
The most common materials used for making blender containers are:
Stainless steel:-This is light in weight, unbreakable when dropped, and easy to clean. But the biggest flaw of this material is that you can't see through it, making it difficult for you to see inside a container while blending. You'll be compelled to turn off your blender and take off the lid to check if you've attained your desired blending result. Will you be able to withstand this routine? I doubt it!
Glass: – This allows you to see through the container. It's easy to clean but heavy. Once it breaks, you'll have to get a replacement. But if it comes with a blender that has no replacements, you'll be compelled to buy a new device.
Polycarbonate – plastic: – Plastics come in various qualities. Most kitchen appliances are made from this material, including containers that come with blenders. It's light in weight, and allows you to see through the jar during blending. Additionally, it's easy to clean. It can survive a few drops or knocks. Unfortunately, it tends to retain the stain and smells of blended ingredients after several uses. Even after numerous washes, the stench may still remain. But if it's something that you'll be able to withstand, then, this will be a perfect material for your chosen blender. If you're concerned, however, about the BPA in a plastic jar, simply choose either of the other options – stainless steel or glass.
(7) Consider your budget and be ready to adjust it
I know that budget consideration usually tops the list of factors for making a buying decision. But people tend to overlook the values or features with benefits that come with a price tag of a blender. Oftentimes, you may be forced to adjust your budget a little bit based on some valuable features with incredible benefits of a blender.
For example, if you fall in love with a particular high speed blender because of certain features and the benefits they offer, and if turns out that the price is higher than your budget, you'll have to adjust your finances to get the machine.
In a nutshell, don't limit yourself to your budget alone. Consider the features of the best high speed blender that you're considering, the benefits it will provide you, and adjust your budget accordingly.
---
Blender Care: How to Extend the Lifespan of Your Chosen Best High Speed Blender
I'm sure you know the numerous benefits of owning a blender. From making sauces, to making smoothies and soups. Blenders have come to fill certain health needs that would have been impossible to obtain.
Besides buying the best high speed blender for your needs, learning to take good care of it should be in your top priorities. This will not only help prolong the life of your device, it will also give you the longest value for your money. Especially if you decide to buy one of the best high speed blenders with a premium price tag.
Following are some simple tips that you can use to take good care of your best high speed blender in 2020.
(1) The base of your blender should be kept dry and clean. You don't want any liquid concealed inside and short circuiting any electrical mechanism. After every use, unplug the unit and use a wet cloth – but not dripping wet — to swab the base clean. The control buttons on most high speed blenders tend to hold tiny bits of food stuck close to the hole space where the buttons stick out for pressing. Apparently, keep the lid on when running your blender to prevent liquids from spilling.
(2) Keep your blender jar clean and dry right after every use. This will prevent food remnants inside the jar from drying and sticking to the walls of the container. If the jar is left untouched after preparing food, it will be a lot difficult to clean it later. You may be forced to scratch the jar in an attempt to get rid of the stack food remnants. This will render the jar unclear making it difficult to see through it when the best high speed blender is running.
(3) Don't forget to unscrew the base of your blender and clean it properly. Most at times food can leak down and stick between rubber seals. If the food is left there for a long time, the best high speed blender will start emitting foul odor.
(4) The motor is one of the major elements of a high speed blender. Keeping it intact will help prolong the lifespan of your appliance. Depending on the type of high speed blender you bought, it's important to control how you work the motor of your device. In other words, how you manage the size and quantity of ingredients that you blend at a time. You may be required to cut some ingredients into smaller sizes before blending them.
Expensive high speed blenders tend to crush ice and frozen vegetables without any difficulties. But cheaper models may struggle to handle the same size or quantity of ingredients. If you're concerned about taxing your high speed blender's motor too much, cut your ingredients into reasonable sizes before blending. If you feel your ingredients will be too much to blend at once, you can blend them in small portions at a time.
Finally, if your blender's jar has measurement on it, make sure you don't go above it. Doing so will overtax the motor.
For more tips on how to take good care of your best high speed blender, check out the video below. It's really helpful.
Wow, it's been a long ride coming this far. But I hope you find this best high speed blender reviews 2020 useful.
If yes, kindly share this review article with your loved ones. It may also help them find the best high speed blender in 2020 for all their blending needs.
Other Articles: